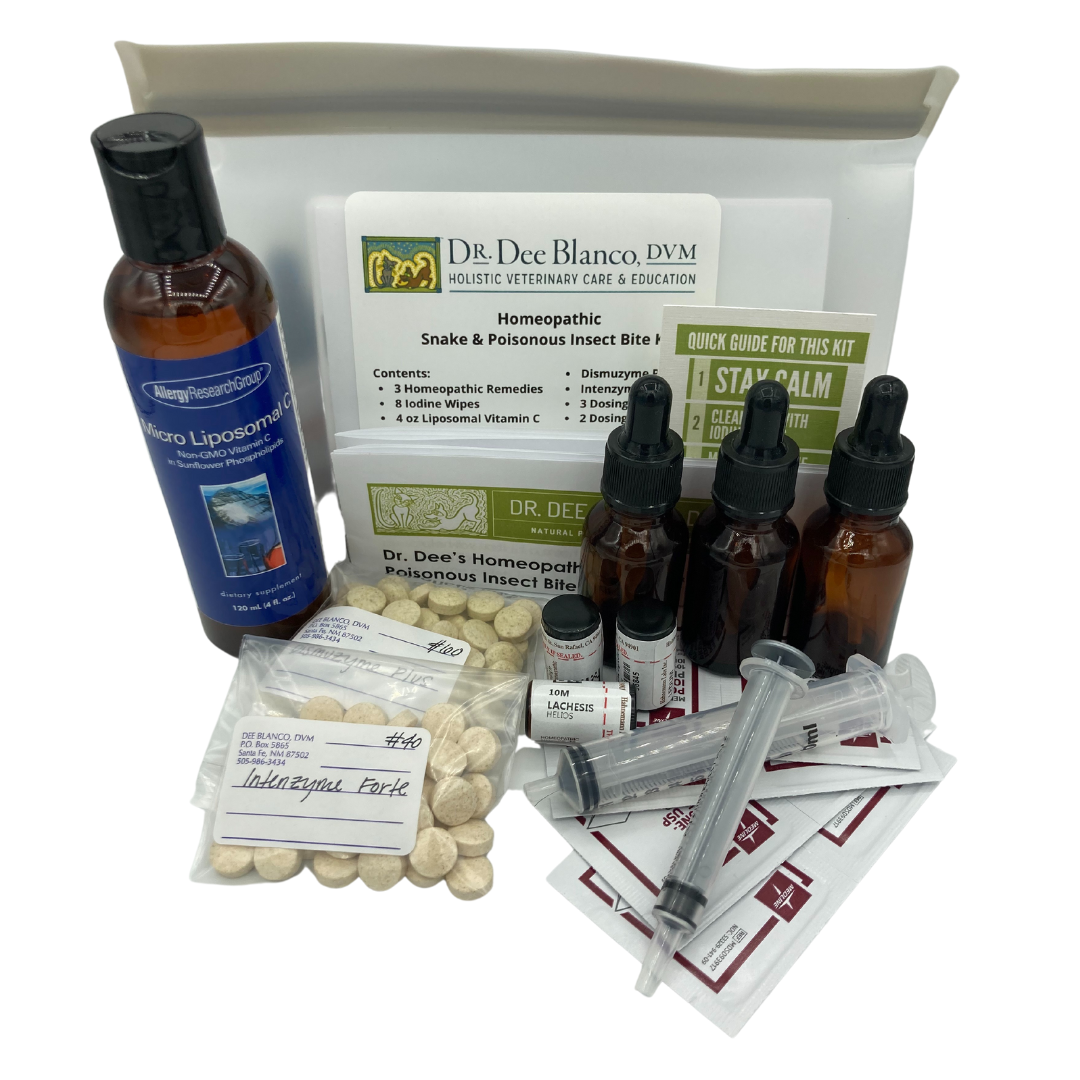 Snake Bite and Poisonous Insect Homeopathy Kit: At Home Emergency Kit for Your Animals
Customer Reviews
Better to have and not need, than need and not have!
It's like the Boy Scouts say- be prepared. This is one of those things you just should have on hand. Dr Dee spent time with me explaining what to expect as well as some success stories with it's use. I hope to never need to use it, but with 4 nosey dogs in the country, I wanted to be safe.
Everyone in "snake/spider-country" should have one.
I just received my Snake Bite and Poisonous Insect Homeopathic Kit and I could not be any happier! The kit has very concise and clear instructions. I love that the first one is to "Stay calm". As a professional dog trainer, I have taught my dogs to avoid snakes (using based-rewards methods) but knowing too that behavior is never 100 % reliable, I feel truly empowered knowing that I have the remedies and the information to help my dogs should the need arise.
Almudena Ortiz Cué, Santa Fe, NM
Arizona is a dangerous place for dogs
My comfort level is high knowing I will be taking my two dogs to Arizona this winter and I have this kit . We have no poisonous snakes or toads in NM
*HOMEOPATHY KITS ARE NON-REFUNDABLE 
For refills on any remedies please contact us at info@drdeeblanco.com
Do you know how to treat snake bite in dogs or cats? Or have you ever worried about poisonous insects that like to seek warmth in your house during the winter?
Standard practices for snake bites or harmful stinging and biting animals may help your animal survive, but they can slow the recovery of the bite or even  leave lasting impact on your pet's quality of life.
Homeopathy can be used to help your animal start the healing process after a snake or poisonous insect bite immediately. The remedies stimulate the body's healing response that can not only save your animal's life and reduce the time required to heal — it could save you upwards of $3,000-$4,000. Anti-venom alone is very expensive and then, of course, there's paying for the other meds and hospital stay.
You should always go to your vet after a snake bite or an encounter with another poisonous animal (even some marine life) but, if you follow the protocol and take care of its contents, you may be sent home without your vet feeling the need to use anti-venom.
The medicine in this snake bite kit is potent and fully capable to help your dog or cat heal affected tissue, ease the discomfort, and avoid any long-term damage. My specific protocol will be included in your kit so you know exactly what to do in the event of snake bite or other encounter with poisonous animals.
Contents: 
Dr. Dee's Protocol Booklet
3 Homeopathic Remedies
8 Iodine Wipes
4 oz Liposomal Vitamin C
Dismuzyme Plus
Intenzyme Forte
3 Dosing Bottle
2 Dosing Syringes