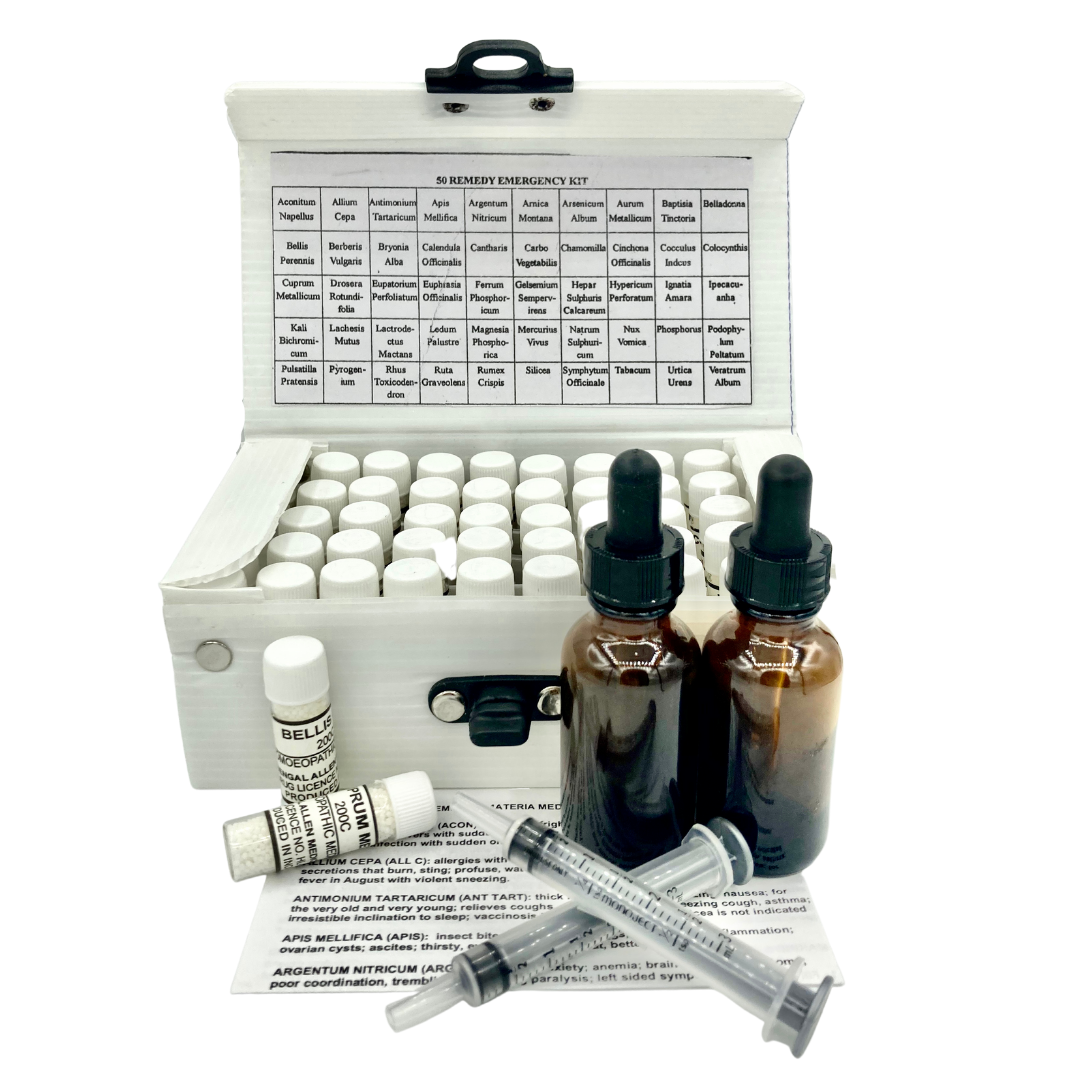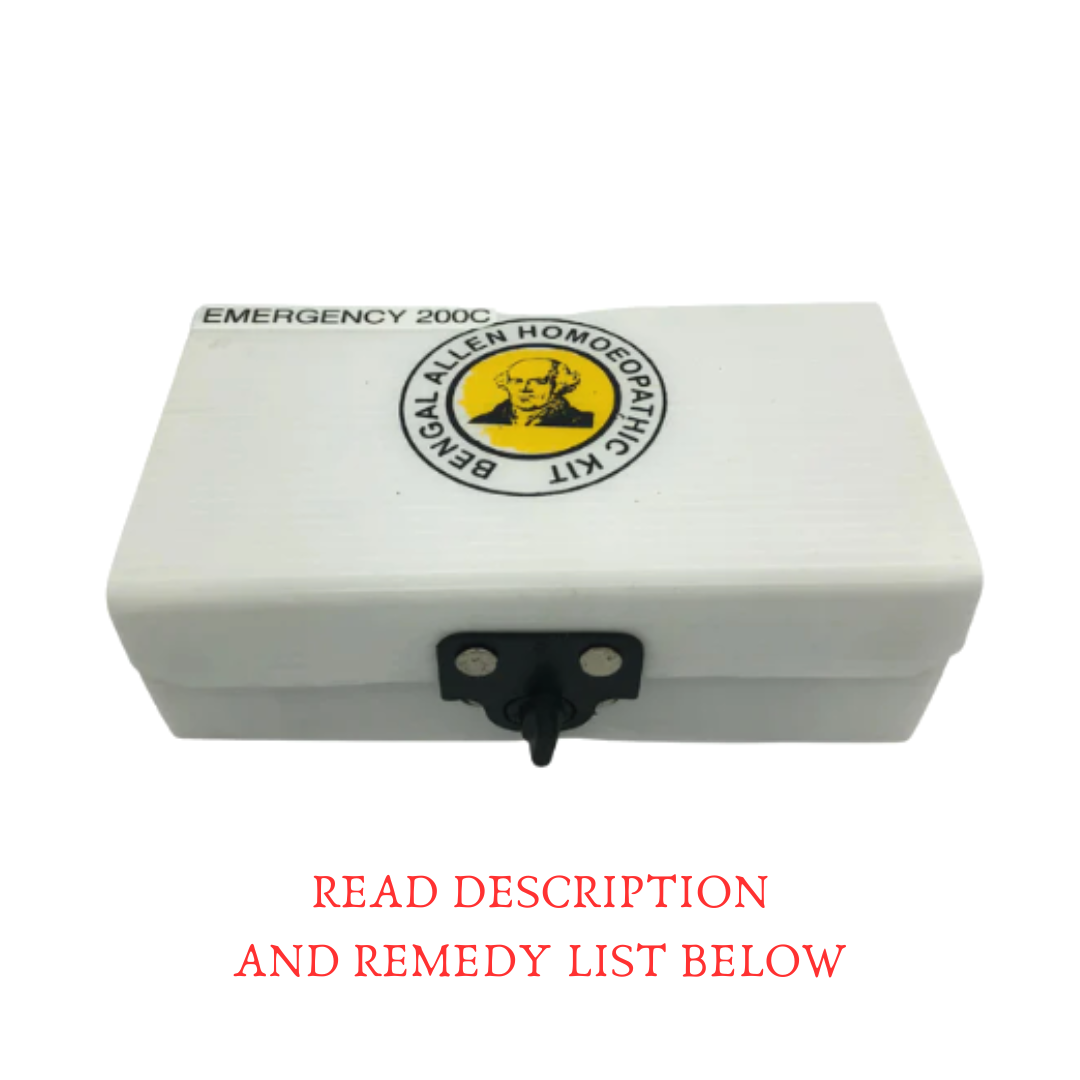 Homeopathy Kit for Acute and Chronic Ailments for Pets and People - 50 remedies KIT A '23
AWESOME kit to have at home!
This is a great homeopathic first aid kit and a perfect size and very well organized! I believe this is a *must* have as it saves lots of trips to a health food store to find a remedy when you need one! The materia medica included is like talking with Dr. Dee herself! It is comforting to read through something that feels like actual helpful guidance when you need it. It is easy to find the right choice. I actually gifted this 30c Kit to a very important person in my dog's life who has given a lot of help to us. My friend has found it user friendly and a wonderful addition to her home medicine cabinet. She is actually relatively new to homeopathy and is able to navigate the materia medica included in the kit and find good remedy options. The case is very hardy and good for travel. I know Dr. Dee is a great homeopathic vet and this is like having access to her in your medicine cabinet.
*HOMEOPATHY KITS ARE NON-REFUNDABLE
For refills on any remedies please contact us at info@drdeeblanco.com
For first time users of homeopathy start with a 30C kit. You can always add a 200C kit later. Get confident using the remedies and then upgrade to the 200C.
Guidance for use of 200C remedies is best if you are working with a homeopathic vet and not recommended for first time prescribers.  
Having a handy homeopathic kit can make giving remedies to your pets fast, easy and even life saving! 
When you need to find the right homeopathic medicine (remedy) for an injury or stomach problem, having a kit will make it much easier.
Having a homeopathy kit ready and stocked at home makes any acute condition easier to treat with less stress. In my practice, one of the most frustrating aspects for my clients is not having the right remedies on-hand. Running to the health food store (if you have a store that carries remedies) in hopes of finding the right remedy can take more time and effort than you might have on a given day to treat your dog or cat for a cold, injury, digestion issues, and so on.
It's been difficult to source homeopathy kits after 2020. The supply and demand for this powerful medicine for the uncertainty of the times meant the production and inventory ran out quickly. I am truly grateful to have discovered the largest homeopathic, family-run pharmacy in India to help me stock and even create my own custom homeopathy kits to accommodate the conditions I've most often treated in my 42 years of practice.
These homeopathic medicines were hand-made (the way only a few pharmacies in the world still do) by a family with a long history of 5 generations of homeopathic practice in Kolkata/Calcutta, India. Homeopathy has been widely used in India since it's inception in Germany for over 200 years, when it was suppressed as a growing medical practice in the United States by the formation of the American Medical Association.
The remedies are large bottles (2 dram) with large pellets giving more than double the amount than some homeopathic kits.
This kit covers a variety of ailments with the most frequently used medicines in homeopathy - most frequently used because of their reliable results!
We've made it easy for you to get started using homeopathy by including a specific materia medica (a sort of Crib Notes of indications for uses) for animals for each remedy; 2 dosing syringes; 2 dosing bottles; and How to Give Homeopathic Remedies to Animals dosing document.
And to given more help we stock beautifully laminated charts for dogs or cats with indications and remedy selections, and the wonderful beginners book on homeopathy by Dr Tim Dooley, Homeopathy, Beyond Flat Earth Medicine. Together, all of these 'ingredients' give you a perfect start or a complement to your growing pharmacy of homeopathic remedies.
In addition to Dr. Dee's Materia Medica specific for animals, Giving Homeopathic Remedies to Animals dosing directions,  2 dosing syringes, 2 glass dropper bottles, this kit includes 50 homeopathic remedies (2 dram bottles):

Aconite nap.
Allium cepa
Aloe soc.
Apis mel.
Argentum nitricum
Arnica mont.
Arsenicum album
Belladona
Bellis per.
Bryonia alb
Calcarea carb.
Calendula off.
Carbo veg
Causticum
Chamomilla
China off. (Cinchona off.)
Cocculus ind.
Colocynthis
Drosera
Echinacea
Euphrasia
Ferrum phos.
Gelsemium
Hepar sulph (Hepar sulph calc)
Hydrastis
Hypericum
Ignatia amar.
Ipecac
Iris vers.
Kali bic.
Lachesis mut.
Ledum pal.
Lycopodium clav.
Lyssin
Mercurius sol. or viv.
Natrum mur.
Nux vom.
Phosphorus
Phytolaca
Podophylum
Pulsatilla nig
Rhus tox.
Rumex
Ruta grav.
Silicea
Spongia tost.
Staphisagria
Sulphur
Symphytum off.
Thuja occ.